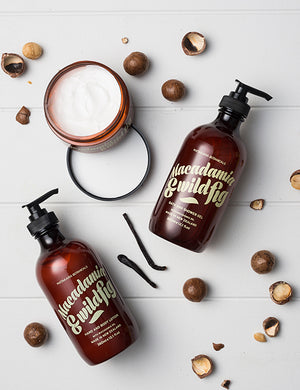 Introducing our Macadamia and Wild Fig Collection: a tribute to the breathtaking Matakana region.
At the heart of this collection lies the remarkable Macadamia Oil, renowned for its skin-loving properties. Rich in monosaturated fatty acids, it boasts exceptional moisturising capabilities, making it the ideal companion for your skincare routine. What sets it apart is its pH level, which closely mirrors that of our skin among plant-based oils. The harmonious balance ensures a gentle and nurturing touch. To elevate your skincare experience, we've expertly blended Macadamia Oil with an infusion of Wild Fig and Manuka Honey.
Quite a few years ago we got to know a local Macadamia grower who educated us on the wonderful benefits Macadamia Oil has on the skin. It was then not long before we were discussing how to extract the pure oil for this unique new range.
We felt like we were early pioneers as no one was pressing and producing Macadamia Oil in New Zealand at the time. Following a lot of research, we located someone with a press that would be suitable to process & press Macadamias.  With some further experimenting we began producing New Zealand's first pure Macadamia Oil. Soon we were blending it with our other unique "hero" ingredients to create a range which assists to nourish and repair the skin
This popular unisex aroma is a combination of fresh fig, light vanilla & almond with a gentle and subtle macadamia fragrance.
Most Macadamia trees take approximately 4 - 5 years to produce a reasonable crop.  Our main variety is called Beaumont.  Harvest is carried out by hand, picking the "Macs" around July and August.  Once the nut is removed it is then cut into smaller pieces and placed in a special press so to extract the oil.
No heat is used and by "cold pressing" we ensure the oil maintains all its natural vitamins and minerals.
This magical oil is the closest of plant origin to that of the pH of our skin.

It is also the highest in monosaturated fatty acids (80%) which provide superior moisturising qualities particularly for very dry or damaged skin.

Another key ingredient is palmitoleic acid, which promotes soft and supple skin. (As we get older our bodies produce less palmitoleic acid so regular use of products containing macadamia oil helps prevent premature aging of the skin).

It has been described as "vanishing oil" due to its rapid absorption, non-clogging, and non-irritating qualities. 
Macadamia Oil combines well with skin lipids to leave the skin soft and smooth.
I have recently returned to the UK after a visit to NZ during which I discovered your wonderful Matakana Valley Macadamia and Fig products.  I would love to know how to order more. I have a bottle of Hand & Body Lotion and want to get some more – it is gorgeous. 
Susie UK

I just saw your hand cream, tried it and am now in heaven, lol. It's gorgeous and the macadamia and fig scent is divine.  
Terrie NZ

I bought shower gel that was Macadamia and Wild Fig – it is the most wonderful product.  Where can I get some more? Patricia NZ

I have Macadamia and Wild Fig Body Lotion and I'm obsessed…. Where can I buy some more!