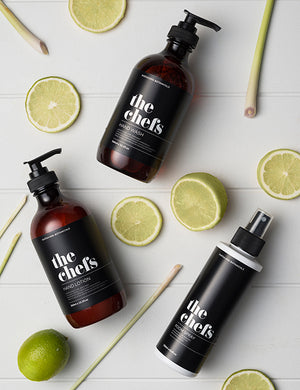 Experience the invigorating fusion of Lemongrass, Lime, and Bergamot.
Unleash the refreshing power of nature with our unique Lemongrass, Lime, and Bergamot blend, a unisex fragrance designed to effortlessly neutralise even the most stubborn food odours.
Our hero ingredients are sourced right from the pristine landscapes near Matakana. Locally grown and harvested, our Olive and Macadamia Oil offer a natural, skin-loving touch that is both gentle and nourishing. These oils are carefully selected to provide the ultimate care for hard-working culinary hands, soothing and revitalising even after the most demanding kitchen tasks.