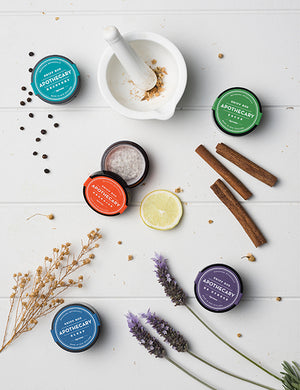 Discover aromatherapy simplified with our Apothecary Sniff Boxes.
In the hustle and bustle of today's fast-paced world, we present a simple and convenient solution to infuse the power of aromatherapy into your daily life. Introducing our Apothecary Sniff Boxes, throughtfully designed to cater to the needs of modern, busy lifestyles.
Inside every Sniff Box, you will find "aroma beads" infused with an expertly crafted aromatherapy blend, meticulously created by Mary Wakefield, one of New Zealand's foremost qualified aromatherapists.
Simply open and take a few deep breaths and enjoy the benefits.
Sleep - Lavender, Chamomile and Neroli
De Stress - Lavender, Ylang Ylang and Majoram
Recovery - Rose, Margoram and Olibanium
Energise - Cedarwood, Eucalyptus and Pine
Focus - Bergamot, Lemon and Cinnamon
This very unique product has been created to assist in providing aromatherapy solutions for today's busy lifestyles. Each sniff box contains aroma beads which have been infused with a special aromatherapy blend. The blends were created by Mary Wakefield one of New Zealand's leading qualified aromatherapists.
For example if you are having difficulty sleeping, concentrating or feeling a bit up-tight then visit the Sniff Box Guide to find out which Sniff Box is best suited for you.
If you are travelling we suggest taking with you a Jet Lag Kit which has a small amenity size SLEEP & FOCUS Sniff Box.
We are proud to have supplied Emirates Airlines in FIRST CLASS for over 15 years.
For hotels and lodges, why not consider placing a Sleep Sniff Box on guest's pillow for the night?
We receive wonderful feedback on these unique products and hope you have the opportunity to enjoy. 
"I am trying to get hold of one of your AMAZING products. It is from the Apothecary range and is one of the Sniff Boxes. I am desperate to find them. One problem is I live in the UK!"
Michelle, UK

"Someone kindly passed on to me both the Sleep and Focus Sniff Box. What a great idea! Where can I purchase them, I would love to send them on to my mother who will be travelling from UK to Australia."
Carol, UK

"My niece in New Zealand sent me one of you sniff boxes about 3 years ago. It is the most marvellous gift I could ever have received. I use the box most nights and after a few sniffs I start to yawn and that is the last I know, straight to sleep."
Hazel, NZ

"I'm looking for a focus sniff box.  I used one during my labour with my second son and like to give them as gifts to friends, but I cannot find them anywhere."
Heather, Australia

"I have been offered a sniff box– Sleep, while travelling with an airline company. Your product is very good, and I would like to know how can I have your product in Luxembourg."
Stephanie, France

"I recently flew First Class on Emirates Airlines from Dubai to Manchester and had the pleasure of using one of your Sleep Sniff Boxes. I was greatly impressed with the effect of the box and would like to know if there is anywhere in the UK that I can purchase your products - especially the Sleep Sniff Boxes.  We live in England."
Ann, UK